Goju Ryu
Martial Arts Academy
About Callum Dick Sensei, 6th Dan IOGKF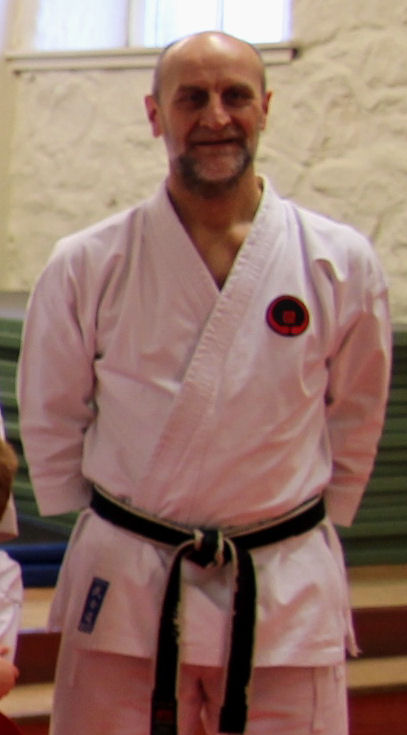 The head instructor at Goju Ryu Martial Arts Academy is Callum Dick 6th Dan, who is the highest graded IOGKF instructor in Scotland. He started Training in Goju Ryu Karate-Do in 1983.
Grading History
Shodan: Kirckaldy 1991
Nidan: Glenrothes 1993
Sandan: Under Master Higaonna 10th Dan, Sheffield 1997
Yondan: Under Master Higaonna 10th Dan, London 2003
Godan: Under Master Higaonna 10th Dan, Poland 2008
Rkudan: Under Master Higaonna 10th Dan IOGKF, Okinawa 2016
I believe that Okinawan Goju-Ryu Karate-do training benefits everyone. Students train at their own pace, each member will improve their mind (mental health, education, and language); body (self defence skills, physical fitness, flexibility, and endurance); and spirit (character, positive attitude, and contributions to society). It is our goal to improve the "quality of life" for all of our members to help make a positive impact on the world. We welcome all potential new members to join our training classes in the East of Scotland..
Strength
Karate is a great exercise for all ages and abilities.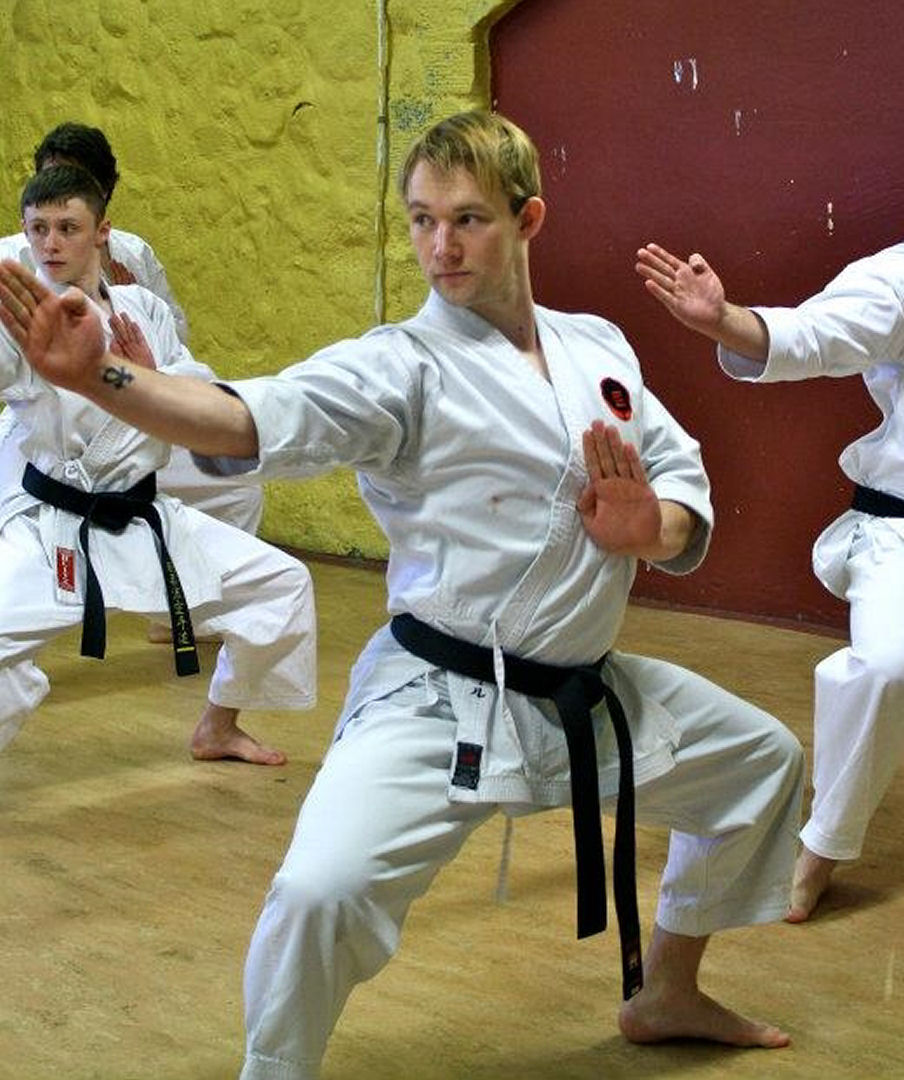 Confidence
Karate balances mind and body bringing confidence.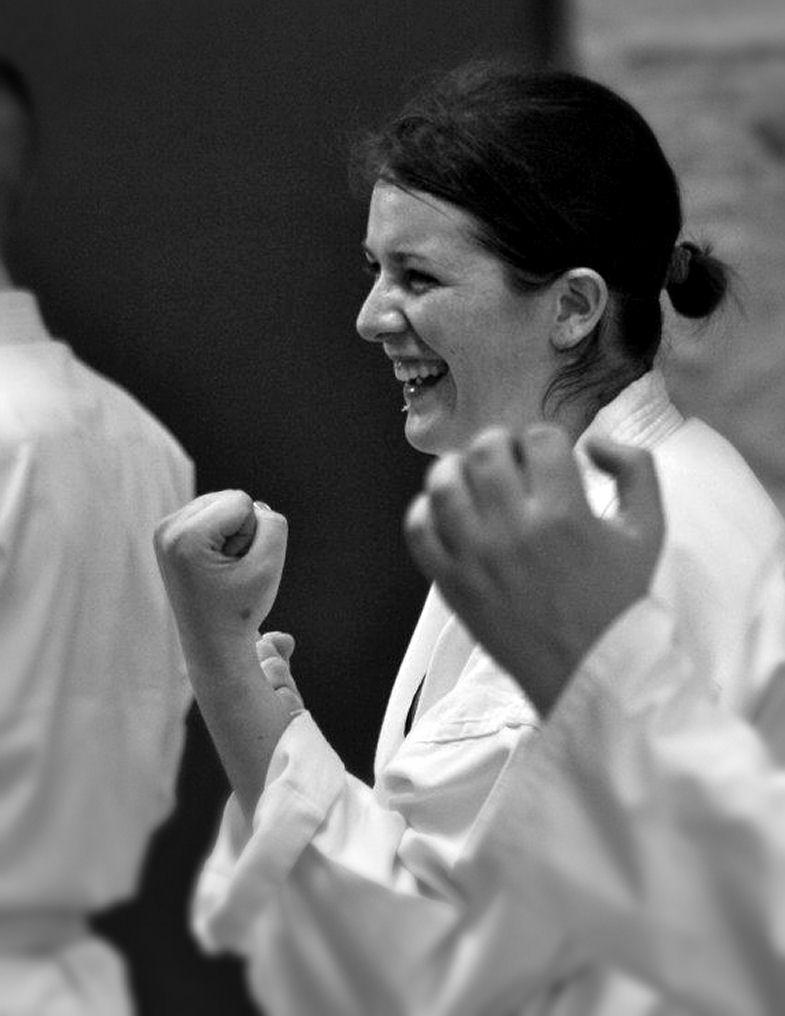 Fun!
Karate is a lot of fun and very enjoyable.
Stenton Jubilee Community Centre
Family Goju Ryu karate-Do classes have been taught at the Stenton Jubilee Community Centre for over 35 years.
The Goju Ryu karate-Do classes are the most popular in the community centre and are held on 3 days (Monday, Thursday evenings and Saturday mornings) per week, each session sub divided into different age groups.
There are students from 5 years old to 63 years training at the centre, this is truly a style for any age and ability, develop fitness, confidence and self-defense.
All beginners welcome e.g. it is common for a parent a child to start the class at the same time.
Fairmilehead Parish church
The Edinburgh Dojo at Fairmilehead Parish church has been providing instruction in Goju Ryu Karate-Do since 2011 as an expansion of our popular classes in Fife. The classes are split by age children from 7pm and youths/adults from 8pm.
Training is aimed at the very beginner looking to start out and build their confidence, fitness and self-defense skills.
The class is also suitable for cross training from other Martial artists interested in broadening there knowledge to Okinawan Karate.
Although our Kids classes are fun and exciting, with races and mobility games for speed, fitness and agility we still teach practical skills for self protection and most importantly building confidence. Parents can really appreciate the disciplined structure of our program. Our classes teach correct behavior and positive attitudes that show up at home and school. Responsibility, integrity and accountability are all attributes of a disciplined person we teach these things through our Monthly Black Belt Excellence work sheets.
I have never done martial arts before. Is this a problem?
Absolutely not! Many of our students had never tried any martial arts when they started training with us. No prior experience of Karate or any other martial art is necessary. You will learn everything you need as you go along.
Do I need to register in advance?
You can simply turn up to one of our sessions to find out more and join in, but we recommend that you get in touch first to register your interest and find out any important bits of info.
What if I can't keep up?
Don't worry. You can learn and train at your own pace. Everyone starts out at a different fitness level, and everyone will pick things up at a different pace. You are not expected to be an expert! All that is expected of you is to try your best – if you do that then you will improve naturally over time. Remember, every black belt was once a white belt.
What should I wear?
We recommend something along the lines of a T-shirt, and shorts or tracksuit bottoms. Your clothes should allow you to move freely and comfortably, and preferably shouldn't have any zips or fastenings that could catch or bump on anything as you move. All jewellery and watches must be removed to avoid any risk of injury. If you decide to continue with your training then we can get you kitted out with a Gi (karate suit).
I have a history of giving up on my efforts to improve my fitness. Is this really for me?
Many Western methods of keeping or getting fit are (dare we say it) a little one-dimensional. If you are looking for something you can really get your teeth into, this could be it. The benefits of training that use your mind, body and spirit all together are enormous, and can be the difference between sticking at something for life, and giving up after a short while. You will be thoroughly supported by your Sensei and your fellow students, and you can expect a huge sense of achievement as you attack each new little challenge. There's a lot more to it than just turning up for class. Classes are lots of fun, and we have a great sense of humour. We organise social events too. Make this the time you decide to "Never Give Up"!
I don't approve of fighting.
Actually, neither do we. Goju Ryu will of course teach you techniques that might help you in the event of a real life fight. But the whole point is that you never want to have to use them for real. Evidence shows that children who study martial arts are far less likely to be involved in bullying or playground violence than other children. Goju Ryu is about knowledge, control, strength, fitness, self defence, confidence, courage, and being peaceful.
Do I have to compete in tournaments?
No. Goju Ryu is a traditional martial art, based on self-defence; it is not a competition/sporting style. Your fellow students are there to help and support you, not to be "your competition'. For those that do enjoy a tournament, there are opportunities to take part in competitions and tournaments both in the GMAA and at other places, but these are not compulsory.
Am I too old to take up Goju Ryu?
Never! As George Eliot said, "You are never too old to be what you might have been". Goju Ryu is an ideal style for all ages. Open your mind, and give it a try.
How fast can I get my black belt?
That will really depend on how committed you are to training. Goju Ryu is a journey that takes time. A black belt has to be earned through deep understanding of the practice, and that by its very nature can't happen overnight. Earning your black belt, and earning that deep understanding, is a marathon, not a sprint! Belt gradings at the GMAA are usually held 3 times a year. Your Sensei will let you know when you are ready to grade to the next level.
However, it is important to remember that gaining a black belt (or any belt, for that matter) is not an end goal. Goju Ryu is a way of life, and what matters most are all of the steps you take on that path, not the colour of your belt.
I'm a bit worried about how I'll fit it into my busy schedule.
We have a number of classes throughout the week, and you can pick whichever ones suit you best. You don't even have to stick to the same ones every week, so if you work shifts, or simply have changing commitments from week to week, it's easier to fit in some training. Only you can make that commitment to yourself to turn up, but we believe that you will find the benefits to regular training will make it more than worthwhile doing it!
Can Karate help me with stress levels?
Absolutely! Physical exercise, combined with mental stimulation and focus, and qi-gong breathing, will have a tremendously beneficial effect on stress levels. Many of our students find that training has become an essential part of their routine for this very reason.
If you're still reading, then it's time for the next step – contact us to book your free taster – you've nothing to lose!